At Fortress Armored Services, we understand how challenging cash processing can be for your business. Fortress Armored has specially trained staff to handle large volumes of cash, and technologically advanced equipment to ensure cash processing speed and accuracy.
We provide the facilities, management expertise, software and hardware for counting, transporting and storing your cash. You will receive daily reconciliation of your inventory sent directly to you through encrypted transmissions.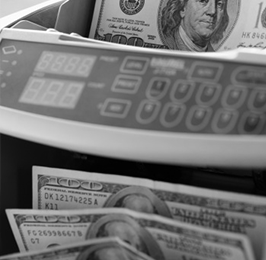 Business owners and managers usually spend too much valuable time overlooking every step of their cash handling services and cash logistics process. This traditional way is inefficient, seemingly endless and expensive. Understanding this gap in the marketplace led us to develop our innovative cash management solution. That's the Fortress Cash Processing advantage.
Our clients are our top priority, and our customer service team ensures world class support at the local level. Here are a few of the ways Fortress Armored delivers remarkable value to our clients:
● Local, responsive customer service
● Emergency cash pickup and delivery services
● Spend less time in cash management
● Innovative, end-to-end cash processing solution
● Custom service packages to meet your specific needs
● Detailed, high level reporting of your cash position
● Fully licensed, bonded and insured
Instead of your managers spending valuable time managing your cash, Fortress cash management services provides an end-to-end solution so your team can stay focused on growth, and less time in cash management. This affords you more control over your money, security, and time. As the premier cash management and logistics firm in Southern California, we take pride in being the local, responsive solution for our clients' cash management needs.
Call us today and discover how the Fortress Armored cash management services, logistics and armored transportation can strengthen your business operations. We'll handle the cash processing, your team focuses on their goals and driving revenue. Discover more about our smart safe solutions by calling 310.970.9800